The work for the construction of Fred's new miniferry. Olsen Express, which began in May, continues on schedule. The Rodman shipyard, in coordination with the shipping company's technicians, is responsible for the project and production of this catamaran, which will have capacity for 250 travelers and will be completed and operational in April of next year.
This week, with the demolding of the ship's second hull, one of the great milestones in its construction has been reached. Thus, the first phase of the manufacturing process in terms of its structure is completed, which will be completed with the lamination of the tunnel, the roofs and the bridge.
Currently, the two hulls of the miniferri have already been positioned, this means that during the next few days work will begin on the tunnel, a necessary step before the installation of the engines and tanks can begin. As confirmed by the Galician shipyard, all the processes are advancing correctly and continue according to the planned production plan.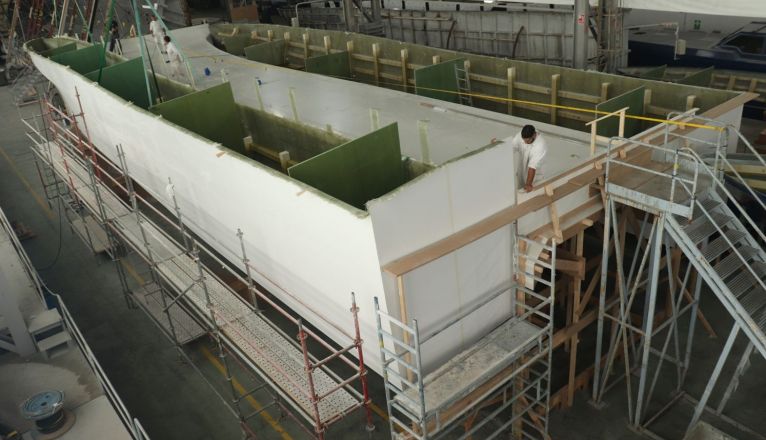 Premiere scheduled for April 2024
This is the new bet of the shipping company, a ship for the transport of passengers without a vehicle , which comes to consolidate its model for shorter routes and focused on excursion tourism . A service that the company already offers on two of its maritime lines, the one that connects Playa Blanca (Lanzarote) with Corralejo (Fuerteventura) and the coastal route of La Gomera, which connects Valle Gran Rey, Playa Santiago and San Sebastián.
Fred. Olsen Express has invested 3.5 million euros in the construction of this Rodman R80 model miniferri, which will have an indoor and outdoor deck, as well as a bar service. Likewise, it will have two Caterpillar C32 engines of 1,081 kW of power, with a maximum speed of 20 knots. It will be in April 2024 when this new ship begins to provide regular service, thus increasing the company's fleet in the Canary Islands.